REFRIGERATOR REPAIR
Refrigerator Repair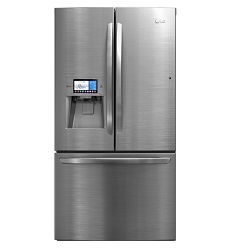 Refrigerator is an essential home appliance in every household. We all rely on it keeping our groceries fresh and beverages cool. Replacing a non-working refrigerator could be both stressful and costly. It is important to have a reliable refrigerator repair Sacramento  company to provide routine maintenance and quality service to eliminate any future problems with your refrigerator. Sacramento residents have been loyal customers of DNZ PROPERTY SERVICES, a local refrigerator repair company, for over a decade. With DNZ PROPERTY SERVICES  you can be confident that all your appliances will be repaired by certified technicians who use only certified parts to replace non-working parts of your appliances. That bring a confidence to our refrigerator repair services in Sacramento. Our technicians are fully trained and certified to repair all major brands including Whirlpool, Maytag, Kitchen-Aid, Amana, Kenmore, LG, Samsung, Viking, Bosch, Sub-Zero, Thermador, and many more. Keeping up with the regular maintenance can prolong the life of your appliance; however, if your refrigerator stops working properly, DNZ PROPERETY SERVICES Sacramento Refrigerator Repair Company will be at you service to fix any problem including, but not limited to:
Your GE refrigerator has a temperature malfunction
Strange noises coming from your Kitchen Aid refrigerator
Your Amana refrigerator is frozen over
Sections of your refrigerator are off temperature
The light doesn't work in your Sub-Zero refrigerator
Your Whirlpool refrigerator has stopped working!
Sacramento Refrigerator Repair Company
Our customer service representatives are always willing to accommodate customer's needs and special requests. Therefore, scheduling the same day appointment and/or after-hours appointment is routinely done at our office. We make sure all of our technicians are equipped with necessary tools to perform quality refrigerator repair and carry an extended stock of parts in their vehicles.
As any appliance designed to serve your household needs, refrigerator requires regular maintenance and quality repair in order to function properly for the extended period of time and save you a hassle of buying a new appliance. Our Sacramento refrigerator repair company takes pride in serving our community and adheres to highest standards in providing an excellent service. Contact DNZ PROPERRTY SERVICES  at 800.810.3935 for professional maintenance and quality repair.