WIRE REPLACEMENT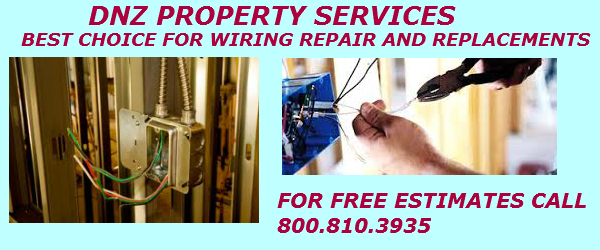 As the expert in Main Service Panel Upgrades and Wire Repair and Replacement we commit to being On Time – On Demand – On Budget.
Wire Replacement and Repair
Whenever you need wire replacement or wire repair, turn to DNZ PROPERTY SERVICES for reliable and professional electricians you can count on. Homeowners should think about replacement wiring every 20 years as a precautionary measure for maintaining the safety of their home and its residents. Some signs that you may need to do a wiring repair are flickering lights, frequent shorts, appliances acting strangely, and/or getting zapped when you are plugging and unplugging electronics. If any of these are happening frequently, it may be time to consider a home wire replacement or wiring repair.
Why Routine Wiring Replacements Are Important
With time, the condition of your house's cables and wiring deteriorate. As licensed wire replacement contractors will evaluate your current wiring and determine if the existing wiring is repairable or needs to be replaced. Whether you have an old house that needs wiring repairs or full wiring replacement or simply want to make sure your electrical wiring is in good condition, the experts at DNZ PROPERTY SERVICES are here to help. Fixing or assessing your wiring every 20 years or whenever you are thinking of buying or selling your home is important for the safety of you and your family. Faulty electrical wiring is a leading cause of fires and other home accidents, and if you suspect that there may be a problem, it is important to have a trustworthy and ethical electrician check it out for you. The professionals at DNZ PROPERTY SERVICES can inspect your home's electrical wiring and tell you exactly what you need to do to bring your home up to code, whether it be a simple repair or a full replacement, we will always be honest and upfront with you.
We Are the Best Choice for Wire Replacement Experts
DNZ PROPERTY SERVICES licensed electricians are experts in wire replacement. We dedicate our efforts to ensure that ALL jobs, large or small, receive the attention to detail and accuracy at a fair and competitive rate. After a thorough assessment we will make the necessary corrections, repairs and upgrades to protect a home from potential risks associated with faulty or old electrical wiring. If you're looking for a professional electrical contractor in the  Los Angeles  and surrounding  areas, call the professionals at DNZ PROPERTY SERVICES to conduct an electrical system inspection of your home. We will identify potential problem areas and perform the necessary repairs to have your home safely up to modern codes.