ELECTRICAL PANEL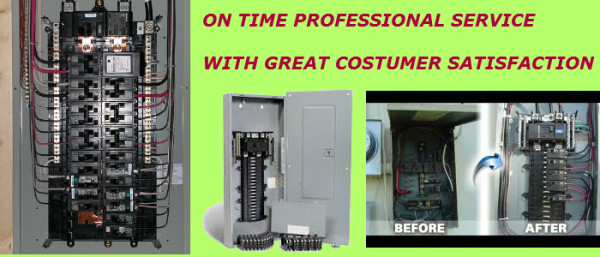 As experienced experts in Main Service Panel Upgrades and Wire Repair and Replacement we commit to being On Time – On Demand – On Budget.
Why Electric Service Panels Exist
Electric Service Panels are the main electrical panel of a building. Electrical panels are sometimes called breaker boxes, fuse panels, or service panels. They have two very important functions:
They act as a single point of entry for the building's electricity that can be accessed from the outside, usually by the power company.
They function as a 'breaking' point or safety mechanism, shutting down if the controls or circuits are overloaded.
Why Would You Need an Electrical Panel Upgrade?
There are a number of reasons why a service panel upgrade is necessary. An upgrade of the electrical service can expand capabilities, satisfy building codes, and increase efficiency. The most common reason for a main panel upgrades to add circuits. Any addition of major appliances, outlets, or hot tubs can require this additional capacity. Another reason for a service panel upgrade is needed modernization of the panel, wiring and circuit breakers. When a home or building is constructed, the electrical service panel is designed to meet the needs at the time and there is usually little room for expansion.
For example, a home built in 1963 would have enough capacity to handle only a handful of outlets, lights, and a few appliances. Over the years modern electrical conveniences have evolved. That same home gets a microwave and television in the 1970′s; air conditioners, automatic dishwashers, and ceiling fans in the 1980's. Then in the 1990′s, phone chargers, and VCR's, come along.  By 2010 we have multiple laptops, and iPhones consuming electricity.
The original electric service panel was installed with the capacity to handle only 1/3rd of the current electrical need. Along the way it is probable that larger circuit breakers were installed to replace fuses. During this install, it is likely that the wire capacity was not increased, and that circuits were doubled up. After all these years and natural progressions, electric service panels get maxed out and must be replaced. Most homes built before the 1970s only have a 60 amp service panel!  At minimum, most homes require at least a 100 amp service panel and the experts at DNZ PROPERTY SERVICES recommend a 200 amp electric service panel.
Always remember though, it is important to get an ethical electrician to assess the situation for you. It is true that main panel upgrades are often required, but it is also possible to add breakers without a complete overhaul of the system. DNZ PROPERY SERVICES guarantees an honest and accurate estimate every time.
But What Is The Actual Electrical Panel?
Electric panels, also known as 'service panels', are a bundle of several pieces; a box, a set of bus bars, one or more grounding buses, and multiple circuit breakers. At the first sign of trouble, it might seem easier to replace these things one at a time, but doing so is very time consuming and therefore costly. Also, it is less expensive to buy all the pieces at once instead of one at a time. Generally, the cost of replacing the entire service panel is equal to replacing just one component. Therefore it is almost always cheaper to replace everything, even when only one item fails. Of course, every case is different – the size of box needed, type of bus bars, and the number and quality of circuit breakers all depend on the needs of the building.
Who Can Carry Out Your Service Panel Upgrade?
By law, electrical work must be conducted by a special type of contractor. In California, the license requirement is C10 or B.  In order for you to be properly protected from contractors make sure to ask them about insurance, bonds, and warranty.
DNZ PROPERTY SERVICES  is a C10 AND a B contractor in California LIC #944187. We are also insured, bonded, and can frequently give you same day quotes and same day service.
Give us a call today to schedule a FREE estimate: 800.810.3935