WATER HEATERS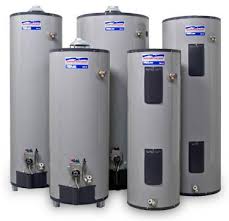 The water heater is one of the most important appliances in your house. During the chilly winter months, hot water is essential to maintaining a warm and happy home. Whether your water heater is on its last leg or you or you're ready for an upgrade, DNZ PROPERTY SERVICES can install a new one in your home or fix your existing unit.
Water Heaters – Storage Tank & Tankless
If you are in the market for a new model, there are two types to consider: a storage tank model and tankless water heater. A storage tank model stores hot water in a tank until it is needed, while a tankless version heats it upon demand. While each has its advantages and disadvantages, the storage tank varieties are more common.
Depending on the size of your home and family, you may require a small or large unit. Typically, two people will only need a model that holds 30-40 gallons; a family of four will require a 40-50 gallon version and more than five people will need a 50-80 gallon unit. The size of your storage area also plays a role in the size and type that will work best for your home.
Water Heater Repair
We can fix and install any brand of water heater including:
State Water Heaters
AO Smith Water Heaters
Bradford White Water Heaters
Day Night Water Heaters
More Flow Water Heaters
Rheem Water Heaters
Water Heater Tune Up
If the water heater in your  Los Angeles and surrounding  home is in need of an annual tune up, let us know! We offer same-day appointments. Call us today at 800.810.3935 or FILL OUT ONLINE FORM.